Licensed, Bonded, and Insured.
Landscaping in Vancouver, WA and Portland, OR.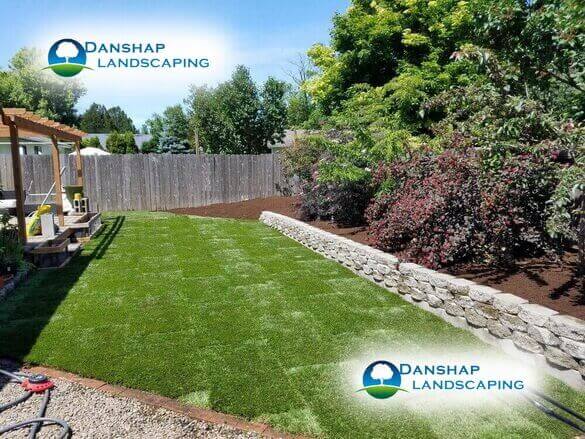 Residential and Commercial Vancouver Landscape Services
Quality Landscaping Business in Vancouver,Washington and Portland, Oregon.
Danshap Landscaping is a locally owned and operated landscaping company that provides quality landscape design service throughout the Vancouver WA and Portland OR surrounding areas. 
Our dedication and experience strive to ensure customer satisfaction by providing quality landscaping services. With plenty of references and a portion of our business coming from referrals, we stay humbled and know that we are only as good as our last job!
Daniel Shapoval – Owner
To have your lawn look its best, trust Danshap landscaping WA to get the job done right. We take a great deal of in the quality of our work. we understand what complete customer satisfaction means.
What Our Customers Are Saying In Vancouver, WA ...
Daniel was absolutely great to work with. From my initial call, to wrapping up my project he was professional, courteous, communicative and did an amazing job. He showed up when he said he would, he was prepared and worked really hard! I recommend Danshap Landscaping wholeheartedly! I will definitely call him for a couple more projects I need completed!
Daniel was a pleasure to work with! I contacted him and he installed the sod the next day, what more could I ask for. Super responsive and easy to communicate with. His price was reasonable and competitive. He also helped offer guidance and the design for the space. I am super happy with the finished product and would highly recommend him. I will definitely reach out again for future projects!
Fantastic company. Professional, prompt, methodical, and diligent. Their work was exemplary and they went above and beyond the call of duty. Fully recommend them for any work, especially readying a house for sale.
Dan returns phone calls quickly. His bid was fair and there were no "surprise" increases in his bid. I was very impressed with his quality work. He got the job done much quicker than I had anticipated. I will hire him again and strongly recommend him.
Easy to work with and offers valuable advice. Quick response and available within a couple days of contact. Showed up promptly and finished the job. Great worker.
5 stars is not enough for this guy! He has leveled and graded my lawn. Mind blowing job for the best price in town! Quick on his work, very clean work, very honest, and very easy communication! Not worth attempting to find anybody else.
Great landscaping work in Vancouver Washington. Fast, prompt, and courteous.
Awesome job, fast work and great price. Can't be beat. Thanks so much, everything looks fantastic.
Daniel was amazing; kind, considerate and hard working. He arrived on time, and stayed focused on the job until it was complete. He wasn't ready to leave until everything was cleaned up. He went above and beyond what was needed to complete the job to my satisfaction. I highly recommend him.
Daniel was great to work with and made sure I was satisfied with the job, going above and beyond. Look forward to using again! Highly recommend!
Was extremely impressed with Daniels professionalism and quick service. Only took a few days before the initial call to Danshap for my job to be completed. They even invoiced less then what they quoted! Honest company and very nice to work with. Will be calling Danshap for all my landscaping needs in the future!
Dan was great! Showed up promptly and went above and beyond. We couldn't have asked for better.
Daniel replaced roughly 2000 square feet of sod, spread 40 yards of bark and gravel. He also regraded a section of my yard. His bid was very competitive, and he was punctual throughout the project. Daniel was flexible, and overcome the obstacles he encountered while completing the work. We've had lots of compliments from friends and family, and the yard has never looked better!
The whole experience was great! He got rid of a giant mound of dirt in about 2 hours, it was pretty impressive. One of the things I most liked was the fact you couldn't even tell he was there afterwards (except for the lack of dirt and butte). He had a bobcat/bulldozer type thing I thought for sure was going to tear up the yard but it was just about perfect. I will for sure be using him for any future things.
What Our Customers Are Saying In Portland, OR ...
I can't say enough good things about Danshap Landscaping! Everything from the very first call was incredible. Daniel's response time, professionalism, prep work.... I could go on. We have had sod laid 3 times since being in our house for 12 years, and this was, by far, the most detailed and professional job.... and extremely affordable. Thank you so very much for a job well done😊
Very good job! Communication was great and exceeded my expectations, would highly recommend!
Dan was very professional and responded to my inquiry same day on the weekend. Was able get me a quote and provide service that Monday. My yard is looking great!
Awesome service 👏 Speedy & a beautiful result. We would 100% recommend this landscaping company to others looking at getting a project done 😁
Clark County, Washington - Landscaper & Design.
With us at your disposal, having a beautiful backyard in Vancouver WA has never been easier!
The reason we're doing such a great job every time is simple – we treat every backyard like it is our own, to ensure the best possible results.
Every project we focus on your requirements from start to finish – from the soil, trees, grass, stone patio, and plants, to the surroundings and lush greenery. We cover everything to make the best-looking Vancouver WA. landscape.
Every project begins with proper landscape construction so that your outdoor living space meets your expectations. Our crew with years of design expertise will come to your property to determine your landscaping needs and ensures complete satisfaction throughout the whole process.
We guarantee that you'll be satisfied with our results. Check out our gallery or read our customer reviews.
What Include Residential and Commercial Landscaping Services?
Sod Installation & New Lawn Installation: To get great grass fast, sod is your best choice. Sod can yield a beautiful lawn quickly with very few weeds, pests, and diseases. Because sod is already completely grown, all that needs to happen is growth in the root system, which will bond your grass to your existing soil. Learn more about sod installation on this page.
Yard Renovation & Landscape Design: Transforming your outdoor space with beautiful landscape design is a great way to increase property value, minimize yard maintenance, and maximize functionality. Landscape design can help beautify your outdoor area and provide you with a space your entire family and guests will come to enjoy.
Ground re-sloping & grading: From having a properly-graded yard to showcasing a beautiful front and back yard, professional landscaping can elevate your curb appeal–and your property's value!
Decorative bark, bark dust, gravel, river rock installations: Depending on your preferences and needs, we use different types of bark, bark dust and mulch for your lawn. Bark dust and river rocks are a great way to make your landscape more aesthetically appealing.
Mulching: Mulch insulates the soil helping to provide a buffer from heat and cold temperatures. Therefore, it is very important to remember to mulch your tree after you have planted it.
Planting trees, shrubs, and plants: A good time to plant is in the fall or early spring, so the tree has time to acclimate before the harsh weather of winter or summer. Once we have your trees/shrubs and locations, we plant them.
Edging: We ensure that your lawn is clean around all edges, walkways, sidewalks, and driveways.
Weed barrier installation: We can help prevent the growth of weeds without affecting the growth, health, and look of your landscaping.
Stone & crushed gravel walkway installations: The best way to instantly transform any garden, drive, path or pond is by using gravel. According to your budget, we use a wide range of colors to complement your existing planting and landscaping areas.
Frequently Asked Questions (FAQ)